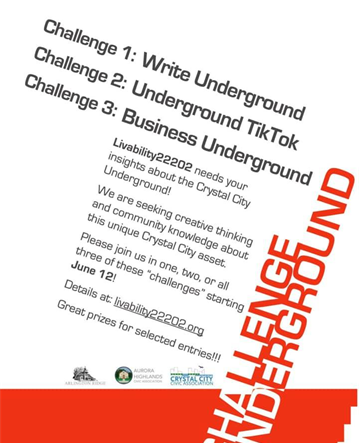 Livability22202 is announcing the winners of its "Underground Challenge" November 11, 2020. The Underground Challenge was organized to spur creative thinking about the Crystal City Underground and its future with the change and new development now happening in Crystal City and National Landing. With over one-half mile of interconnected buildings, corridors, and plazas, the Crystal City Underground has long been a feature of the area and is much loved by local residents.
With a vision to revitalize and improve the Underground, challenge entrants were asked to submit ideas in three categories: creative writing, video, and a "business plan." Entrants celebrated their fondness for the underground, pointed out its quirks and features, and proposed new ideas for its future.
These ideas ranged from suggestions of potential businesses, like a hardware store or library, to more creative suggestions, such as using the space for urban agriculture or STEM-related activities for youth. And participants especially emphasized the valuable role that the Underground serves in transportation and commuting, especially during inclement weather.
Patricia Heath's "Underground Energy" won first place in the "Write Underground" category, and Ms. Heath wrote compellingly of all the benefits and uses the Underground provides to residents. Ms. Heath summed it up that "There are myriad issues to be addressed, and I don't have all the answers (and likely don't know all the challenges). What I do know is this: the Water Park may be the outdoor personification of our Crystal City urban village, but the Underground is its beating heart and circulatory system, literally and figuratively."
Runners up in the creative writing category also included Neena Gupta's enlightening "In Search of a Protagonist" and Matthew Mercado's clever "Dr. Mercado's Diagnosis."
Winner of the video category "Tik Tok Underground" was Kari Klaus, who literally envisioned a transformation of the Underground inspired by Las Vegas, with its many interior spaces and fantastical settings. Emma Benson and Eric Cassel were runners up in this category, with creative videos offering both fond – and satirical – commentary on the existing Underground experience.
Entrants in a third category were invited to submit a "business plan" for how to support the Underground through commercial use of the space. Matt McKinstry offered a creative set of ideas for transforming little used Underground spaces, possibly rebranded as the "Under Grange," to support urban agriculture and agritech startups, with indoor farming able to supply local restaurants. Indoor hydroponic farms could be created and harness efficient LED technology, circulating nutrient-laden water to grow vegetables, greens, and herbs. Mr. McKinstry also provided expertise on how aquaponics, floriculture, mycoculture, and even cheesemaking and beekeeping could be implemented in the Underground!
Runners up in the business plan category included Michael Hong, who made a compelling case for an entertainment district with larger vacant spaces converted into entertainment centers. Mr. Hong noted that Crystal City needs a live music hall, with the desire to hear music performances growing and unsatisfied. And Mr. Hong suggested that a groundbreaking use for the Underground might include The Museum of Science Fiction, which judges noted as a potentially very apt fit in the Underground complex! Another runner up for in the business plan category was John Chapin, who recognized advantages in the Underground's "unique physical characteristics compared to other publicly-oriented metro-accessible spaces in the DC area," and proffered use of the space for security related enterprises, with Secure Compartmented Information Facilities (SCIF) as a potential asset for multiple businesses.
Winners in each category were awarded gift cards to Ted's Montana Grill, Sweetgreen, and Jaleo, and runners up also received gift certificates. The overall effort (and awards) have been supported by the National Landing Business Improvement District, with additional support from JBG Smith. Judging of the entries was provided by Arlington videographer Eric Courtney, Robert Siegel, former co-host of National Public Radio's All Things Considered, and noted authors and Arlington residents Rick Hodges and Kim O'Connell.
Judges noted the breadth of creative thinking across all categories and felt that a combination of many of these ideas might make for a compelling overall plan for the Underground that is robust across many business cycles.
Community leaders plan to continue sharing the ideas generated in the Underground Challenge entries, to foster further discussion about the overall future of the Crystal City Underground with interested parties.
About Livability22202
Livability 22202 is the work of the 3 civic associations of 22202 – Arlington Ridge, Aurora Highlands, and Crystal City. The residents of 22202 have committed to tackling the challenges facing our area with holistic strategies based on shared livability themes to create a better, more livable city.